1.6L EcoBoost Standard Engine Kit 227bhp
4504.72
Details
1.6L EcoBoost Standard Engine Kit 227bhp
MBE-ECO-1.6-KIT-01
The EcoBoost 1.6L SBD 227bhp kit is fully programmed and ready to use. when you purchase this kit, you simply fit everything to the standard engine, choose your pedal sensor*, then choose optional extras depending on your requirements and your engine is ready to use. When you first purchase the kit and you are set up and ready to go, we include 1 hour of free Teamviewer to link to your laptop, this is purely to set the throttle pedal travel limits to match the amount of throttle pedal travel you would like in your car.
Once the engine has been started up, the MBE9A6 DI ECU has full wide band lambda control and knock control to maintain and fine tune the engine, so there is no need to do any set up or rolling road work.
If you decide to upgrade later on, you simply order the upgraded components from us and the upgrade includes the cost of the new map.
1.6L Ford EcoBoost standard engine 227bhp graph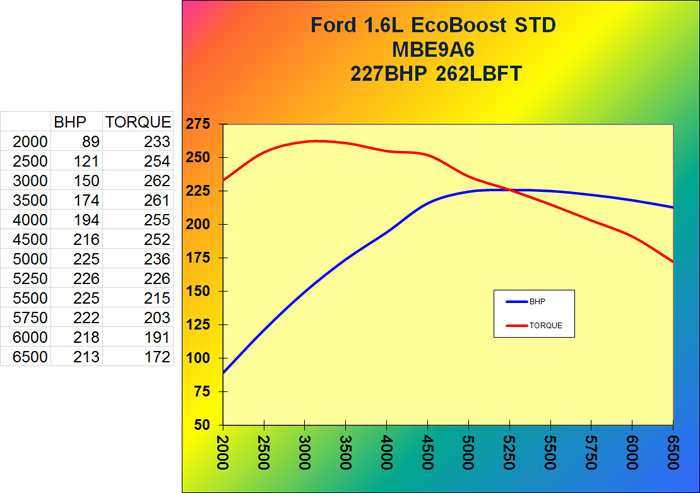 We have designed and developed a wiring harness specifically for this application, which is made in full Raychem military spec wiring, this harness can then have additional features added via its interface connector as and when required by the user.
The pedal sensor adapter loom is supplied as part of the kit and is 500mm long. We have standard off the shelf versions LM9A6-A-P-01, which allow you to connect our recommended choice of pedal sensor EGAS-P-01-SH. We regularly use this pedal sensor because it is ideal for converting a cable throttle set up to EGAS/Electronic throttle due to the fact that it can be mounted anywhere in the vehicle, then you can connect your standard throttle cable to it and make your own mounting to hold the sensor in place as opposed to replacing your pedal box. If you already have your own pedal sensor, please confirm before ordering the part number of the pedal sensor and what production car it comes from. We will then check the MBE list of already calibrated pedal sensors to see if it has already been done. If not you will have to send us the pedal sensor and there will be a small charge of £50 + VAT to calibrate.
MBE-MAP-KIT-3-CAN is a mapping kit for MBE CAN ECUs, translates the information from your high speed USB port to the CAN data required by the ECU. This hardware can be used as a simple diagnostic tool to analyse the ECU, update software, transfer whole ECU chip files, modify & edit maps. Live Map can be used on MBE9A4 ECUs onwards. The adapter MBE-MAP-KIT-3-CAN-ADP3 is used to link the MBE985 & MBE973 to SBD Wiring harnesses, you will need one of these to use the above mapping kits. We've fitted the small 4-way superseal connector to all our harnesses because it is neat & compact and allows us to link & power other MBE systems together. MBE OBD to CAN Pin Out Details (MBE985/973)
The LMBDA-04 wide band lambda sensor, it is currently the most accurate & toughest sensor produced by Bosch to cope with harsh environment & is a significant improvement over previous versions. If you have purchased the standard engine complete with downpipe, it will quite often equipped with this sensor as standard and provided it is in perfect condition with its original connector still in place, it can be used.
Reviews
SHIPS WORLDWIDE
We ship our products all over the world
CONSULTANCY
Technical consultancy available on request
25+ YEARS EXPERIENCE
We design our own specialist engine packages
100% SECURE DATA
We ensure that any data you choose to share with us is secure