Vauxhall 2.0L XE TP225bhp Kit
4564.31
Details
Vauxhall 2.0L XE TP225bhp Kit
TP-KIT-VX-XE2.0L-225
For 2.0 Litre 16V XE & LN Engine
Our 2.0L taper throttle kit was originally developed by Steve in 1994 for a customer running a privately funded Touring car, being very pleased with the results obtained, he decided to run the kit on a standard engine. The kit proved extremely efficient & as a direct replacement of the standard induction system gives an incredible 39% increase in power, provided a suitable exhaust system is used. It gives very smooth & progressive driving characteristics, along with good all round driveability. It is extremely popular in the sprint, hillclimb, circuit & rally scene, selling in large numbers all around the world. 
In 2013, Steve took everything he had learnt on throttle body design and developed a new throttle system, which has improved our original design still further showing increases in torque and horsepower culminating in the production of the TP-VX-2.0-K3 throttle bodies.
The first upgrade has been designed to provide an increase of approx 20 bhp over the basic kit yet retaining the ultra smooth power delivery without losing any of the driveability.
This increase in power has been achieved by developing a pair of hydraulic cam profiles with a reasonable increase in duration but a high lift, which produces what was needed. Due to the high lift cams, special springs, caps & spring platforms are needed. Also the pistons need to be replaced with Omega high compression pistons; these have deeper valve pockets. You should be looking to achieve 11.2:1 compression ratio, you may need to machine the crown or use a thicker Cometic head gasket to achieve this desired result. 
The MBE ECU comes ready programmed & ready to use.  If you are upgrading from the TP208kit, it is simple to reprogram your current MBE9A# ECU.
The wiring harnesses have been specially designed to be as neat as possible and are available in front or rear wheel drive layouts to cover as many applications as possible, when ordering your kit you should specify whether your car is front, rear or mid engine layout.
There are a range of options, please chose the kit you are interested in running, look though the various options that may interest you, then add them to your enquiry and add a brief description of what you are looking to achieve.  We will then tailor your kit to suit your requirements.  Please advise us if you are upgrading from our lower spec kits.
The 2.0L XE TP225 kit is one of our longest standing kit that we have produced, it was designed originally to give a nice upgrade from the TP208 kit, which customers wanted to see a benefit in the spread of power and peak horsepower, but not to lose any bottom end performance. When the kit was originally designed the UK government was going to phase out 98octane fuel so the kit was mapped on 95octane fuel and worked extremely well. One of the original engines that was built to this specification was used by Matt Hillam in his road going Westfield, which was very successful for many years. The car was eventually sold to a friend of his Keith Adams and he had used it for many more years. Eventually it was decided that a rebuild was required, which was done by Nigel Keats at Cougar Racing. The compression was raised to take advantage of the 98octane fuel and the car was taken to Northampton Motorsport to be remapped. As you can see from the graph, it produces 227bhp and 185.8lbft and has a beautifully smooth strong torque curve. It is still one of our highly recommended kits for everyday road use as well as competition.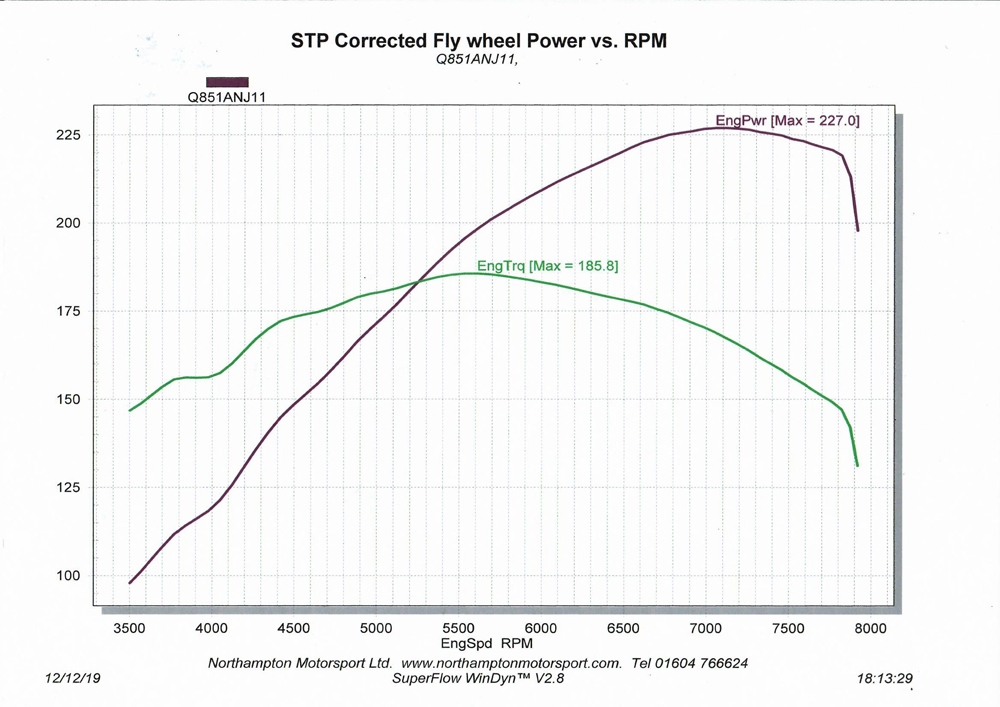 Exhaust Manifolds 
All our kits have been developed using exhaust manifold designs that have been dyno tested and developed by ourselves. In order to achieve the optimum performance from your kit, you will need to have an exhaust manifold made to our design. When you purchase the kit, this information will be included.
Download the pdfs that show the installation instructions and the TP-VX-2.0L-K3 Dimensions.
When setting up the throttle body kit, it is recommended you use a syncrometer as shown in the instruction sheets, they are available from us, part number CRB-SYNCRO.
Reviews
SHIPS WORLDWIDE
We ship our products all over the world
CONSULTANCY
Technical consultancy available on request
25+ YEARS EXPERIENCE
We design our own specialist engine packages
100% SECURE DATA
We ensure that any data you choose to share with us is secure